"Designing for the loop" - Awareness seminar on Smart Textiles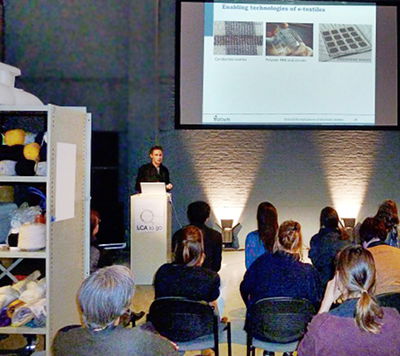 On November 23/24 2012, the LCA to go project facilitated its first awareness raising seminar about life cycle based assessment (LCA). These seminars aim to make SMEs familiar with the concept of life cycle thinking. The LCA method is used to support environmentally conscious product design and business decisions.
In the two-days workshop Designing for the loop designers and developers of smart textiles learned how to evaluate the possible environmental impacts of products during the early stage of the design process. Participants practiced LCA in a playful manner by using a card game that was developed by the TU Delft. Playing the LCA game in groups lead the participants to reflect upon the life cycle of future electronic textiles, in particular their end-of-life phase. These insights were tested during the hands-on part of the workshop, which consisted of a design challenge to conceptualise a sustainable activity-monitoring textile. In the process of creating e-textiles prototypes the attendants discussed design-for-recycling strategies with regard to the life-cycle attributes that were simulated by means of the LCA game.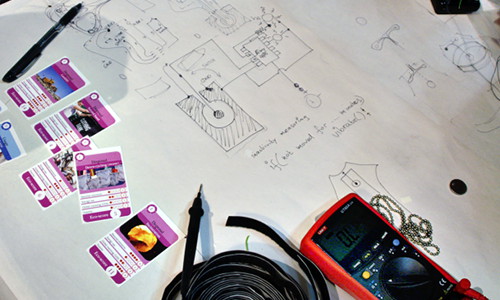 The workshop was organised by the Delft University of technology in liaison with the smart textiles design artists Mika Satomi (Kobakant) and Hannah Perner-Wilson (Plusea). Presentations about LCA and design-for-recycling of smart textiles were provided by Andreas R. Köhler (TU-Delft) and Christl Lauterbach (Futureshape). The second day featured expert presentations about textile recycling (S. Jongerius, Stichting KICI) and e-waste recycling (Feng Wang, United Nations University). The seminar was part of the eTextile Sweatshop programme organised and hosted by the V2_Institute for the Unstable Media in Rotterdam (The Netherlands).