Intuitive Data Quality Indicator developed for the LCA to go web-tool
The quality of data used is a major limiting factor in Life Cycle Assessments (LCA). As part of the LCA to go web tool development, the Vienna University of Technology together with Fraunhofer IZM, defined a Data Quality Indicator (DQI). Emphasis was put on the simplification of existing concepts and on the development of an intuitively understandable indicator to benefit the user.
The goal of the LCA to go project is to spread the use of LCA across European SMEs.
The simplified environmental assessment methodology follows an iterative approach and the DQI can help to track the progress to a more robust result, especially in the most relevant life cycle phases. The developed three tier system; with the definitions "Illustrative", "Indicative" and finally "Robust"; describes the quality of the input data by the user and gives an indication of the overall solidity of the result.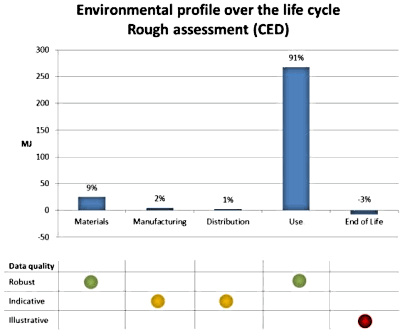 As shown in the Figure, the presentation of the results together with the DQI allows the user to quickly identify areas where improvement in data quality is needed and to track progress to a more robust result.
A research paper, covering the development of the DQI is currently being drafted and will be presented in April 2013 at the 20th CIRP Conference on Life Cycle Engineering.